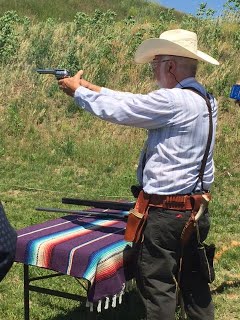 Cowboy Action Shooting Matches - Open to the Public
The Aurora Sportsmen's Club and the Kishwaukee Valley Regulators (SASS affiliated club) invite you to our Cowboy Action Shooting matches held on the first Sunday of each month, April through November.
Cowboy Action Match dates for 2023 are April 2, May 7, June 4, July 2, August 6, September 3, October 1, November 5.
Participants drive to the east-side ranges on the rifle pistol range at 7641 Rueff Road, Waterman, IL 60556. Gates open at 8:00 a.m. Contestants gather for a briefing at 8:45 and shooting starts at 9:00.
Contestants use firearms typical of those from the taming of the Old West: single action revolvers, pistol caliber lever action rifles, and old-time shotguns. There are 5-6 stages set up in unique "Old West" style. Stage scenarios feature an array of situations, many based on famous incidents or movie scenes, in which shooters test their skills against steel targets.
Beginners, experts, members, non-members, spectators and curious people are all welcome. Hearing protection and eye protection with side shields are required for participants and spectators.
Everyone tries their best to dress the part and respect the traditions of the Old West. Some folks would call it good sportsmanship. We call it "The Spirit of the Game."
Matches are held according to Single Action Shooting Society rules.
Walk-ins are welcome. Fees: $15 per adult shooter, $10 for "Young Guns" ages 14 thru 16. "Buckaroos" under age 13 shoot free (Buckaroos must have .22 caliber pistols and rifles, 410 gauge shotguns.) There is no fee for spectators.
Learn more at http://www.sassnet.com