Aurora Sportsmen's Club Guest Instructor Program
Thank you for showing interest in bringing your training to ASC. One of our primary missions is to grow the shooting community and to provide education opportunities to both the new and advanced shooter. We also support Law Enforcement training programs. ASC is continuously growing and improving our training facilities, so please reach out to us to customize your training experience.
Please click on the link below to see our upcoming schedule. Check back often as we add classes throughout the year.
Aurora Sportsmen's Club Guest Instructor Program 2023 Class Offerings
Maps and Location of Training Facility:
The Aurora Sportsmen's Club is located about 60 miles due west of Chicago, just southwest of Waterman, Illinois. All training events will be held on our East Range Complex.
Entry Gate Entrance: 7749 Rueff Rd, Waterman, IL 60556
Overhead Map of Areas used for Guest Instruction: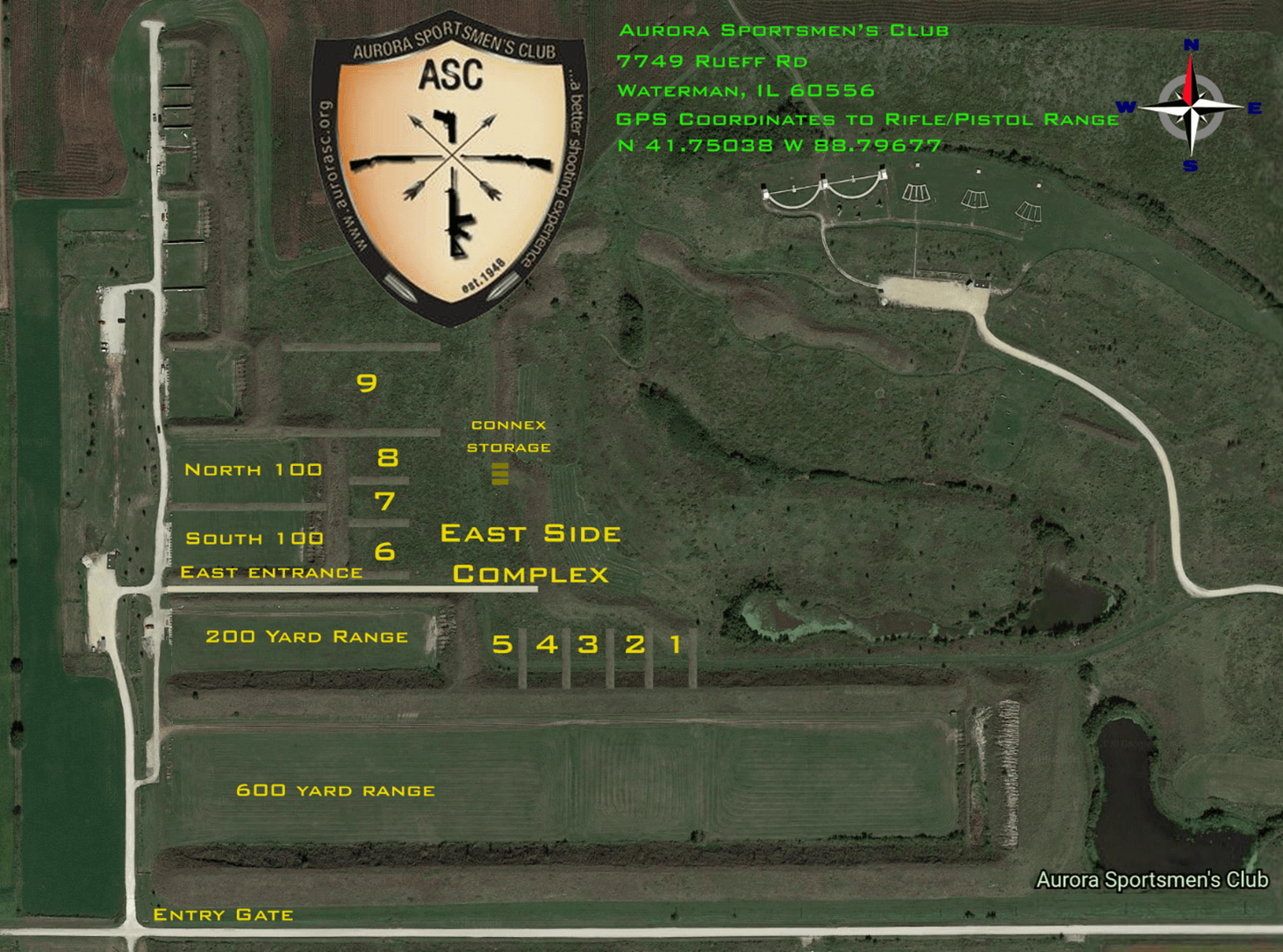 Range Bays Offered at ASC:
Currently we have 11 bays available for rental use.
5 Bays approximately 25 wide x 25 yards deep
3 Bays approximately 30 wide x 30 yards deep
1 Bay approximately 50 wide X 100 yards deep
Tactical Vehicle Bay approximately 30 wide x 30 yards deep
Long Range Bay 100 wide by 600 yards deep

The 600 yard bay has wing berms at 100, 200, 300, 400, and 500 yards
Pictures of the range facilities are available here
Future Training Facilities Offered at ASC:
We have additional range bays construction underway with expected completion in Spring of 2024. This will consist of 8 bays that are 50 yards deep and 40 yards wide each, and a 200 yard deep bay that will be approximately 75 yards wide.
ASC is underway on a project to build a modular 15,000 square foot Live-Fire Ballistic Shoot House. This is designed to support four 40'x60' individual training areas, creating unique and separate floor plans to maximize training opportunities. Our current plans call for a residential, office, commercial, and wide open floor plan. An overhead catwalk will provide instructors with a birds eye view of all training activities. This is a multi-year project with expected completion in 2024 or 2025.
ASC is building an elevated shooting platform on our 600 yard range. Below is a mockup on what the end result will look like.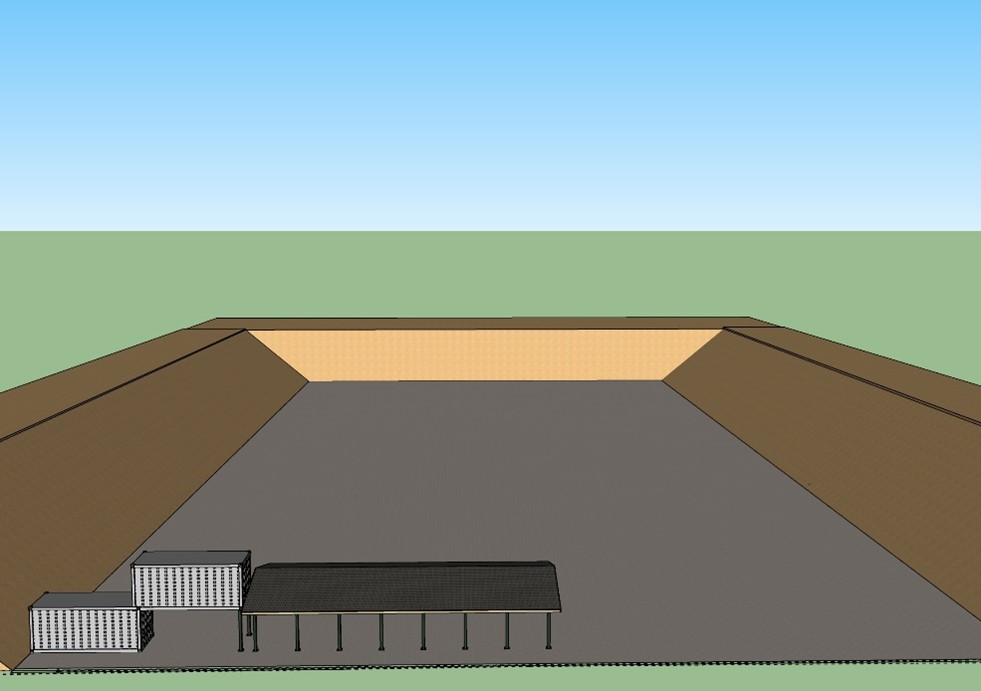 Classroom Space Offered at ASC:
Construction will be completed spring of 2023 for our 42x104 ft range building with bathrooms, a kitchen/dining area, and a dedicated classroom. The classroom can accommodate up to 40 people and has its own dedicated HVAC system. We will also have a Large Format Display available to connect your PC for projecting material, and wifi access for instructors.
Overnight Lodging Space Offered at ASC:
ASC has a 4-bedroom lodge that is within 5-minute drive of the ASC ranges. It can accommodate up to 16 people for a meeting space and 13 people for sleeping.
Central Meeting Room with seating for up to 16 people and Large Format Display.
Living room with 2 3 person Couches and Large Format Display
Kitchen with Fridge, Dishwasher, Cook Top, Microwave, Double Oven, and Keurig.
Basic Kitchen Utensils, Cooking Pots, dishes provided.
Walk in Food Pantry
Laundry Room with Washer and Dryer, and Sink.
Small Office with Office Desk and 3 Chairs.
1 Bedroom with Twin Bed
3 Bedrooms with two bunk beds in each room. Sleeps 4 people per room, 12 total across all 3 bedrooms.
ASC Lodge Overnight Stay= $35 per person per night. We have a 3 person, or $105 minimum to rent the facility for each evening. Pricing subject to change at ASC's discretion.
Pictures and Lodging details can be found here
Lodge Address: 8559 Rueff Rd, Waterman, IL 60556
Important Information for Guest Instructors:
ASC is not responsible for marketing or processing student fees, but we do provide best effort to assist our instructors on marketing classes to both our members and community.
ASC has a vetting process for all guest instructors for the safety of our members and guests. Please be prepared to provide credentials when requested.
Instructors must submit a certificate of insurance with liability coverage of $1,000,000 per occurrence with a $2,000,000 aggregate. Aurora Sportsmen's Club 7858 Preserve Rd. Waterman, IL 60556 must be listed as an "Also insured".
ASC reserves the right to require instructors submit a course curriculum summary.
Instructors are required to have everyone in attendance sign an ASC liability waiver before training begins.
Contact Information for range rental bookings:
Please contact us for all rental pricing and reservations.
Peter Alexopoulos
847-282-2728