Aurora Sportsmen's Club Outlaw Steel Challenge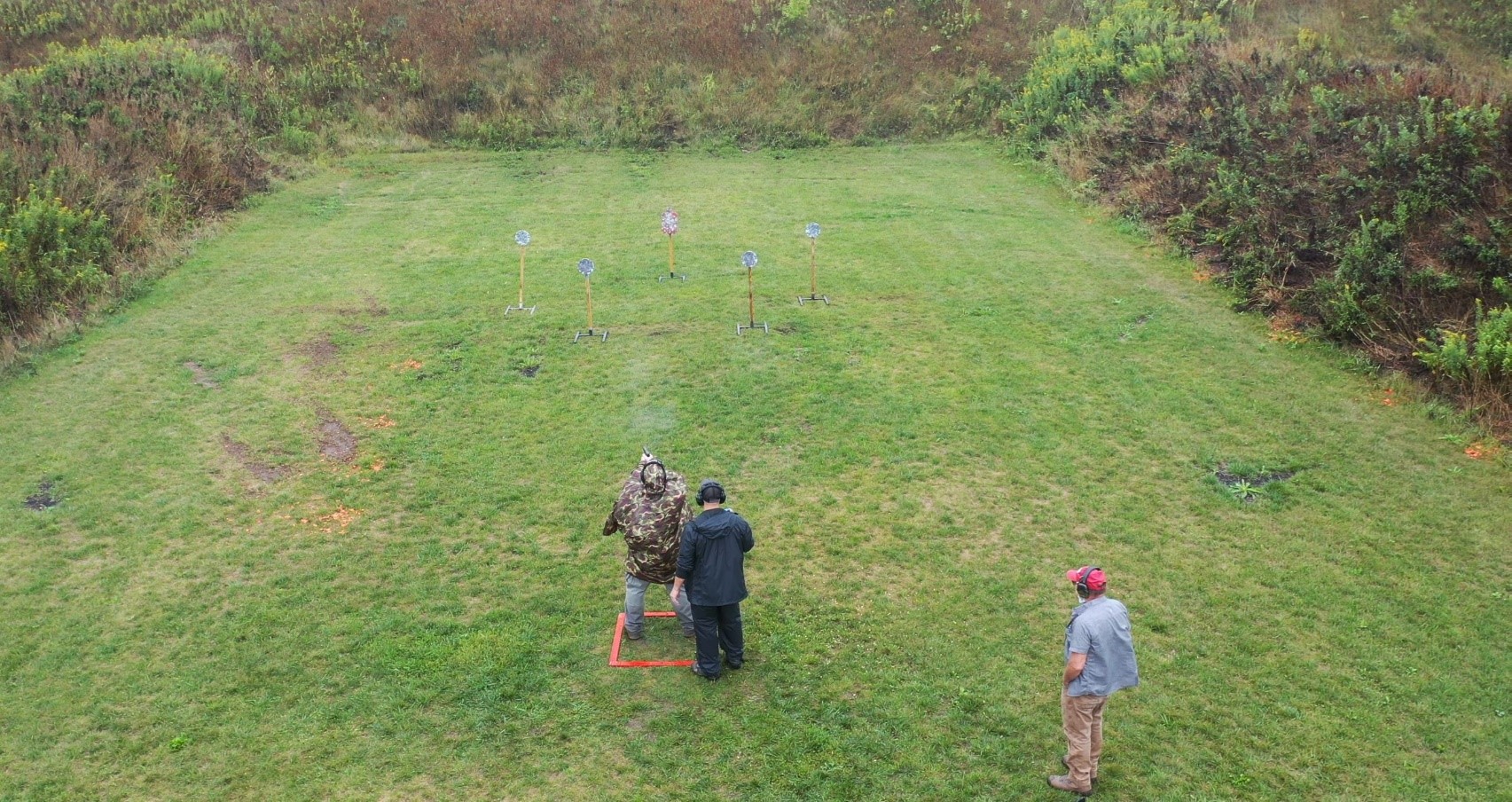 What is Outlaw Steel Challenge?
Outlaw Steel Challenge is like traditional steel challenge with a caveat; the goal of this outlaw format is to test your shooting ability rather than your ability to memorize patterns.
If you're starting with a rimfire/PCC rifle, or rimfire pistol, you will start at low ready. For centerfire pistols, you're start loaded and holstered with your hands in the surrender position. At the beep, you'll engage 5 steel targets in any order, with one steel target painted a different color indicating it's the stop plate, meaning the plate you shoot last after shooting the other 4. You'll repeat this a total of 5 times with your worst time thrown out and the other four used to calculate your stage time.
The matches typically consist of 5 stages setup one stage per bay. Each stage will have an array of 5 pieces of static steel with one piece of steel painted a different color to indicate that it's the stop plate, which is the plate that you shoot last.
When are the matches?
Setup starts at 7 am. All attendees please take part in setup if you can. We are an all-volunteer group.
Check in starts at 8 am. Safety Brief at 8:45 am. All attendees must be present for the safety brief to participate in the event. Match starts at 9 am.
For 2023 our match dates are 4/22/2023, 5/27/2023, 6/24/2023, 7/22/2023, 8/26/2023, 9/23/2023, and 10/28/2023. We will send out notices if our schedule changes.
What about Equipment and Ammo?
Basic Equipment needed:
A Centerfire pistol (revolver or semi-auto) or Pistol Caliber Carbine
A belt and holster to fit your gun
2 magazines or 2 speed-loaders, with belt pouches
200 rounds of ammo
Eye and Ear protection
Calibers allowed will be 22lr, 38 special, 9mm, 40 S&W, and 45 ACP
Are there different Divisions?
Divisions are:
Handguns: Open, Limited, Production, Single Stack, Iron Sight Revolver, Open Revolver, Carry Optics, Rimfire Pistol Irons, Rimfire Pistol Open
Long guns: Rimfire Rifle Irons, Rimfire Rifle Open, Pistol Caliber Carbine Irons, Pistol Caliber Carbine Open
Link to rules for each division is https://scsa.org/rules
What is the cost for a match?
Match Fees: The prices are $10 for ASC members, and $20 for non-members. Second gun is an additional $5
You must be member of ASC Club on Practiscore for the member discount to be reflected in the pricing at registration.
Register at: https://practiscore.com/clubs/aurora_sportsman_club
Who can I contact with questions?
This email address is being protected from spambots. You need JavaScript enabled to view it.